Join Us for an Entrepreneurial Network & Learn Mixer!
Are you a local entrepreneur craving meaningful connections and seeking the ultimate productivity boost? Look no further!
Our monthly Network & Learn is your ticket to turbocharge your business journey and discover a world of FREE online resources that will skyrocket your brand's success.
Date: Monday, September 25, 2023

Time: 9:30A -11:30A

Venue: Mckinney Leaf Cafe 405 N Mcdonald St., Mckinney TX 75069
Connect with Purpose:
Fuel your ambition and connect with like-minded hustle-preneurs at our monthly "Caffeinated Connections: Network & Learn Mixer, hosted in the warm embrace of Mckinney Leaf Cafe

This is your golden opportunity to mingle with movers and shakers, share your ideas, and build invaluable connections that enhance your business journey.
Sip, Savor, and Network:
Fuel your passion with a cup of your favorite brew while engaging in purposeful conversations with like-minded professionals. Our relaxed ambiance encourages genuine connections that extend beyond the event.
Get Things Done with Free Online Resources:
Explore a world of free online resources that can empower your brand and drive growth. Learn how to leverage digital tools, platforms, and strategies to enhance your online presence and engage your target audience effectively.
Lightning Sessions:
In our wellness-themed, hustle atmosphere, we'll feature individual sessions, where you can seek collaboration from our experts – connect with your vision in minutes!
Wellness is Key:
At Mckinney Leaf Cafe, your quality-of-life matters. Engage in conversations that empower your mind and embrace the supportive community that surrounds you.
RSVP for a Shot at Victory!
Oh, did we mention there's a door prize that could be yours? Secure your spot now and RSVP for a chance to walk away with an incredible door prize that'll give your hustle an extra edge.
RSVP Now: https://www.eventbrite.com/…/caffeinated-connections…
Secure Your Spot:
RSVP today to reserve your place at the intersection of innovation, collaboration, and wellness. Embrace the opportunity to connect with fellow hustle-preneurs, harness the power of online resources, and embark on a journey of growth.
Don't miss out on the buzz, the brilliance, and the boundless opportunities that await you. We're here to empower you, connect you, and help you conquer the entrepreneurial arena armed with the best online resources.
---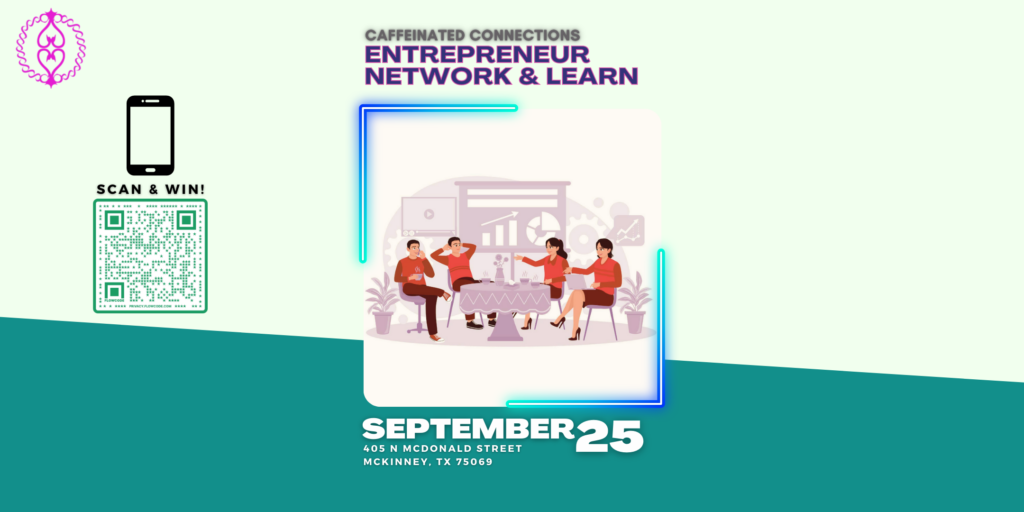 Remember, success is brewed with connections, conversations, and community.
RSVP Today & Win a Door Prize
Bring a friend, and if they win, you do to!
---
Are you ready to hustle? Let's connect and get things done – together!