Embrace the Chill Vibes and Toast to Your Triumphs at Our Monthly Entrepreneur Happy Hour Mixer!
We know the hustle can get real, and that's why we're here to invite you to our Entrepreneurs Happy Hour Networking Mixer – a place where wins are celebrated, stories are shared, and the good times flow as smoothly as your business ideas.
**Event:** Entrepreneurs' Happy Hour Unwind Mixer

**Date:** Tuesday, October 3, 2023

**Time:** 6-8 PM

**Venue:** T-Time Customs, 1203 N Kentucky St, Mckinney TX 75069
Picture this: an easy-going setting, friendly faces, and a shared appreciation for the journey you're on.
At the Entrepreneurs' Happy Hour Unwind, we're all about celebrating your successes in a way that lets you relax and just be yourself.
**Raise a Glass to Your Wins:**
No win is too small here. From sealing a deal to nailing that perfect pitch, let's give it up for your achievements.
**Sip, Savor, and Socialize:**
Relaxation is the name of the game. Mingle with fellow entrepreneurs, grab a snack, unwind with a refreshing beverage, and soak up the positive vibes of a community that's got your back.
**Connect in a Relaxed Setting:**
Our mixers are designed to be as comfortable as your favorite pair of sneakers. Swap stories, share advice, and make connections that matter – all in an atmosphere that's anything but stuffy.
**Ready to Unwind?**
You've hustled hard, and now it's time to treat yourself to an evening of celebration and camaraderie.
RSVP to the Entrepreneurs' Happy Hour Unwind, because your journey deserves a moment of
relaxation and genuine connection.
---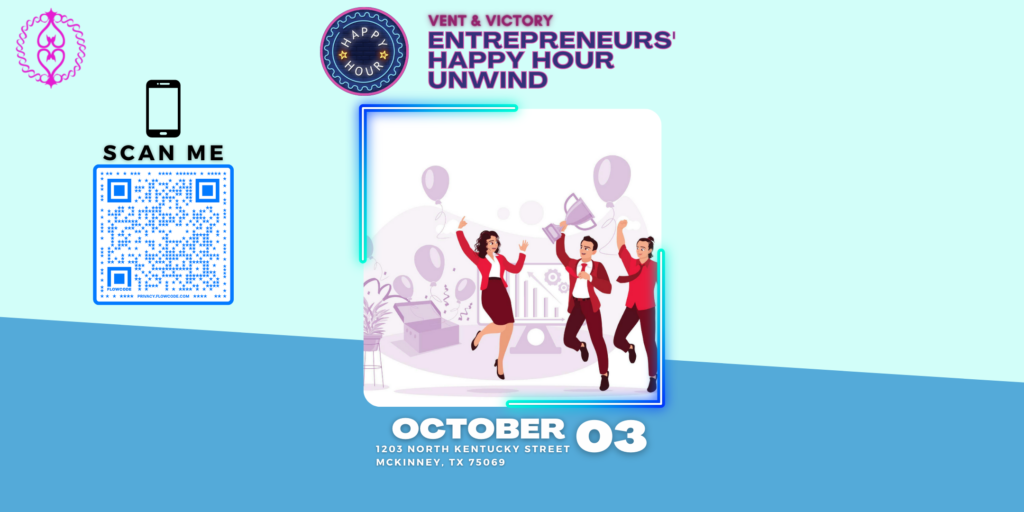 Mark your calendar for a casual get-together that promises good times, great conversations, and the chance to recharge your entrepreneurial spirit.
In a world that's often fast-paced, we invite you to slow down, unwind, and let the good vibes flow.
Join us at the Vent & Victory:Entrepreneurs' Happy Hour Unwind – where celebrating your wins is as natural as a deep breath and a genuine smile.
RSVP Today & Win a Door Prize
Bring a friend, and if they win, you do to!
---